Feral Chaos (Desperado Chaos in Japan) is a secret character and superboss featured in Dissidia 012 Final Fantasy. Unlike the more familiar known Chaos, Feral Chaos can be unlocked as a playable character and is among the strongest of characters to appear in the series.
Appearance
Edit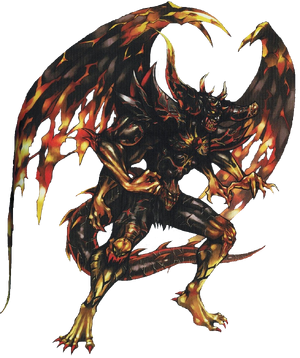 Feral Chaos is, as the name implies, a more bestial version of Chaos. He is far larger in comparison with some of his features exaggerated, included a more exaggerated face with distinct red teeth, yellow forearms and legs and a broken left horn. His wings are frayed and his tail features two rows of spikes running down.
Alternate appearance
Edit
Jade Dissonance - Recolors him to feature green and blue hues, resembling Chaos's Final Fantasy XII incarnation.
Abilities
Edit
Feral Chaos's battle concept is The Omega and the Alpha. He fights using bestial versions of Chaos's techniques. Many of his Brave attacks not only cover a great range but even possess Defense Crush abilities, allowing him to easily punish opponents with almost little to no risk.
Unfortunately, he is hampered by several disadvantages:
neither his Assist or EX Gauges ever fill up.
his Brave is constantly dropping 
many of his attacks take up a lot of CP
The first three of these disadvantages can be remedied by equipping certain abilities that nullify these handicaps which can be obtained as he levels up and by mastering abilities (by fighting Inward Chaos on Bonus Day), CP costs will be cut down.
Essentially, the player is required to play as Feral Chaos more than any other character to even the playing field. Even so, the player must make a choice as to whether or not he will have a lot of attacks or abilities.
The power of discord reveals the true chaos - Feral Chaos's body morphs into a more magma-like state, mirroring his appearance in the CGI intro of Dissidia.
EX-Bonuses
Edit
Divine Might - Increases movement speed.
Brutal - Increase attack and defense power.
Regnum Dei - Feral Chaos breaks into the opponent's own EX Burst tunnel and throws them upward, shattering it as they enter his own realm; a dark void with a small ring of fire as the barricade. No further bonuses are given here and the player may continue to fight the opponent for 20 seconds like normally. Feral Chaos's EX Gauge also freezes so as to not prematurely end the EX Burst. Once time is up or the player presses Square and R beforehand, the final strike Nexus Ultimus is performed as Feral Chaos thrusts his claws into the opponent and holds them up as they are then immediately impaled by several of Chaos's swords. It ends showing the victim's point of view as Chaos proceeds to aim for their face and the screen blacks out like a TV screen.